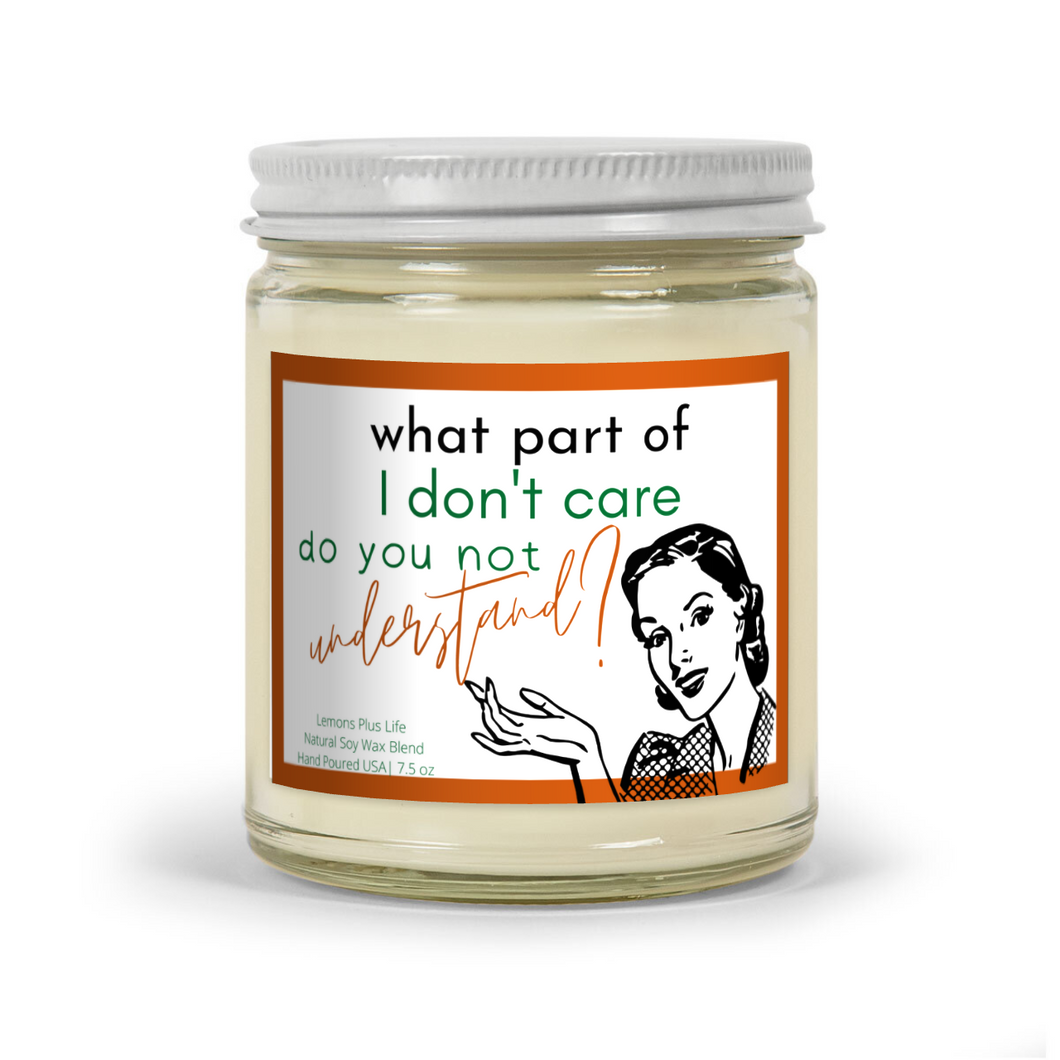 Funny Mid-Century Design Candle, I Don't Care Candle, Message Candle, Funny Gift for Her, Soy and Wax Blend Candle 7.5 oz, Funny Saying Candle
Regular price $21.99 Sale
Funny Mid-Century Design Candle, I Don't Care Candle, Message Candle, Funny Gift for Her, Soy and Wax Blend Candle 7.5 oz, Funny Saying Candle
FREE Shipping|Ships only to the USA
Give guests to your home or office a laugh when you add our mid-century design candle "what part of I don't care do you not understand?" to your mid-century home accents, contemporary home decor, or your office.
This funny saying candle is the perfect mesage candle gift for her! The design features a mid-century woman in black graphics, a funny saying, and aromas to fill your home with  mid-century, kitchen aromatic memories!
Ready for your to laugh and breathe in the following favorite scents: Comfort Spice~A mid-century celebration of brown sugar and cinnamon sticks join on top. A shimmer of lemon is blended with vanilla extract & pralines. White cedarwood & musk add to the finishing touches.
Top Notes: Brown Sugar, Cinnamon Sticks
Mid Notes: Vanilla, Pralines, Lemon Zest
Base Notes: Cedar, Musk
Our candles are created in the USA & ship from New England using a 100% natural soy wax blend. 
Additional Information: 7.5 oz. candle~Glass vesselAverage burn time 50-60 hours
100% natural soy wax blend
100% cotton wick
Non-toxic. Contains no lead, plastics, parabens synthetic dyes, or phthalates
Ships in 3-5 days
People who bought this product, also bought