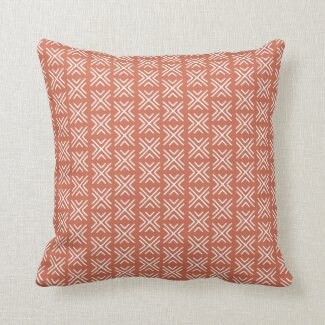 Ethnic Pillow, African Mudcloth Design Pillow, Clay Color African Design, Mudcloth Pattern, African Pattern Pillow, African Accent Pillow
Regular price $33.00 Sale
Ethnic Pillow, African Mudcloth Design Pillow, Clay Color African Design, Mudcloth Pattern, African Pattern Pillow, African Accent Pillow
FREE Shipping!
Size 16 X 16
Includes Pillow and Cover, Insert and Cover
*This is not actual African Mudcloth fabric. It is an imitation of African Mudcloth using graphic design.
Our African Mudcloth design in our ethnic pillow imitates the traditional Malian fabric that is dyed with fermented mud and plant dyes. On an actual piece of African mudcloth, the cloth is sundried and then painted repeatedly with fermented mud, which has a chemical reaction with tree leaves and the cloth is left with a rich brown even after the mud is washed off. Our African accent pillows, in an African Mudcloth Pattern, are imitations of the actual African mudcloth design process. The tradition of creating the actual mudcloth dates back to the 12th century and comes from northern Africa in the Western Sahara region. These cloths were traditionally made by men. Mudcloth patterns were often designed to carry complex meanings.
Our African Mudcloth designs imitate this ancient art using graphic design. Chic and stylish, these African accent throw pillows are a compliment to your earth tone home decor, natural home decor, Boho home home decor in natural colors, and minimalist home decor with an earthy energy in its patterns.
Dimensions: 16" x 16" (square)
Simplex knit fabric; 100% polyester; wrinkle-free
Sewn shut enclosure; synthetic-filled insert included
Entire pillow is machine washable
Made in the USA
Ships in 5-7 days
Return/ refund within 14 days
People who bought this product, also bought